Anthony King's Guide to Michael Jackson's Dangerous Tour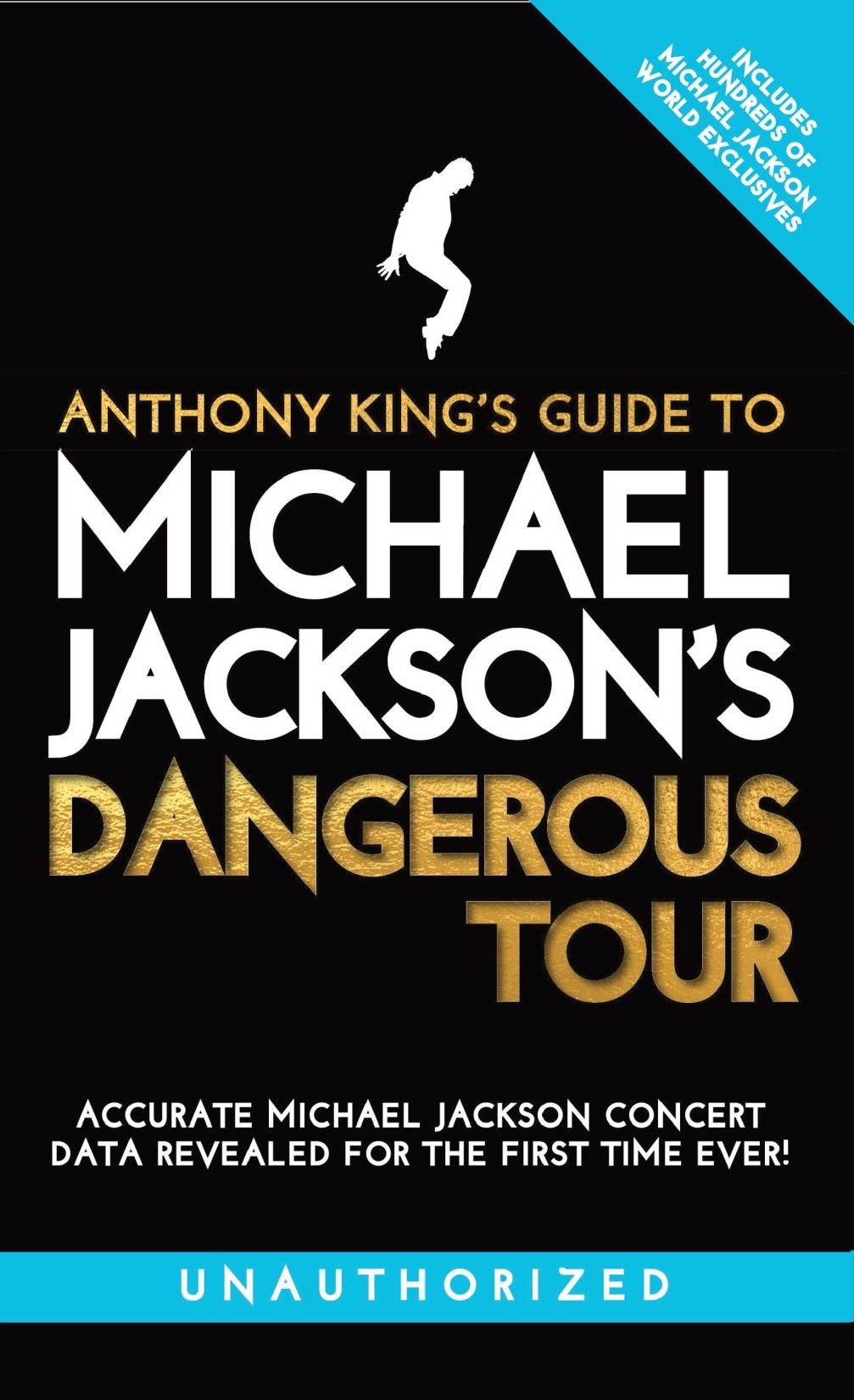 Anthony King's Guide to Michael Jackson's Dangerous Tour
Authored by Anthony King
​​Paperback & Kindle
5″ x 8″ (12.7 x 20.32 cm)
542 pages
ISBN-13: 978-1999604929
ISBN-10: 199960492
BISAC: Music / History & Criticism / General
About the book
Anthony King's Guide to Michael Jackson's Dangerous Tour is an analysis of every performance, with factually accurate show dates, venue information, audience data and more… for the first time ever!
The Dangerous tour is finally revealed, in depth and show by show, taking you on tour with the King of Pop, around the world!
This detailed and highly researched tour guide delves deep into the show trivia, the choreography and dancers, the band and music, set design, illusions, behind the scenes and much more.
It is the most factually accurate look at Michael Jackson live in concert ever written… Filled with hundreds of world exclusives.
Table of Contents
Preface 
1. The Difference Between Fact and Fiction 
2. Dangerous Tour Facts, Figures and Full Tour Schedule 
3. Michael Jackson and Pepsi – Dangerous Tour Sponsorship Deal 
4. The Songs and Music Performed 
5. Show Summary: Staging/Themes/Props/Special Effects/Pyrotechnics 
6. The Stage, Sound and Backstage 
7. Illusions and Stage Tricks 
8. Michael Jackson and Classical Music on Tour 
9. Dangerous Tour Costume Design 
10. The Dancers and Choreographers 
11. The Band 
12. The Singers 
13. Pre-recorded Elements on the Dangerous Tour 
14. Did Michael Jackson Sing Live on the Dangerous Tour? 
15. INDIVIDUAL COMPREHENSIVE ANALYSIS: 
MICHAEL JACKSON DANGEROUS TOUR MUNICH 
MICHAEL JACKSON DANGEROUS TOUR ROTTERDAM 
MICHAEL JACKSON DANGEROUS TOUR ROME 
MICHAEL JACKSON DANGEROUS TOUR MONZA 
MICHAEL JACKSON DANGEROUS TOUR COLOGNE 
MICHAEL JACKSON DANGEROUS TOUR OSLO 
MICHAEL JACKSON DANGEROUS TOUR STOCKHOLM 
MICHAEL JACKSON DANGEROUS TOUR COPENHAGEN 
MICHAEL JACKSON DANGEROUS TOUR WERCHTER 
MICHAEL JACKSON DANGEROUS TOUR DUBLIN 
MICHAEL JACKSON DANGEROUS TOUR LONDON 
MICHAEL JACKSON DANGEROUS TOUR CARDIFF 
MICHAEL JACKSON DANGEROUS TOUR BREMEN 
MICHAEL JACKSON DANGEROUS TOUR HAMBURG 
MICHAEL JACKSON DANGEROUS TOUR HAMELIN 
MICHAEL JACKSON DANGEROUS TOUR LEEDS 
MICHAEL JACKSON DANGEROUS TOUR GLASGOW 
MICHAEL JACKSON DANGEROUS TOUR LONDON 
MICHAEL JACKSON DANGEROUS TOUR VIENNA 
MICHAEL JACKSON DANGEROUS TOUR FRANKFURT 
MICHAEL JACKSON DANGEROUS TOUR LUDWIGSHAFEN 
MICHAEL JACKSON DANGEROUS TOUR BAYREUTH 
MICHAEL JACKSON DANGEROUS TOUR BERLIN 
MICHAEL JACKSON DANGEROUS TOUR LAUSANNE 
MICHAEL JACKSON DANGEROUS TOUR PARIS 
MICHAEL JACKSON DANGEROUS TOUR TOULOUSE 
MICHAEL JACKSON DANGEROUS TOUR BARCELONA 
MICHAEL JACKSON DANGEROUS TOUR OVIEDO 
MICHAEL JACKSON DANGEROUS TOUR MADRID 
MICHAEL JACKSON DANGEROUS TOUR LISBON 
MICHAEL JACKSON DANGEROUS TOUR BUCHAREST 
​16. Other Michael Jackson Live Performances during the Dangerous Tour 
MICHAEL JACKSON DANGEROUS TOUR TOKYO 
MICHAEL JACKSON DANGEROUS TOUR BANGKOK 
MICHAEL JACKSON DANGEROUS TOUR SINGAPORE 
MICHAEL JACKSON DANGEROUS TOUR TAIPEI 
MICHAEL JACKSON DANGEROUS TOUR FUKUOKA 
MICHAEL JACKSON DANGEROUS TOUR MOSCOW 
MICHAEL JACKSON DANGEROUS TOUR TEL AVIV 
MICHAEL JACKSON DANGEROUS TOUR ISTANBUL 
MICHAEL JACKSON DANGEROUS TOUR TENERIFE 
MICHAEL JACKSON DANGEROUS TOUR BUENOS AIRES 
MICHAEL JACKSON DANGEROUS TOUR SÃO PAULO 
MICHAEL JACKSON DANGEROUS TOUR SANTIAGO 
MICHAEL JACKSON DANGEROUS TOUR MEXICO CITY 
17. Postponed and Cancelled Shows List 
18. The Dangerous Tour Rehearsals and Sound Checks 
Michael Jackson Dangerous Tour Rehearsals (Tape 1) 16th May 1992 
Michael Jackson Dangerous Tour Rehearsals (Tape 2) 16th May 1992 
Michael Jackson sound check Munich, Olympic Stadium June 27th 1992 
Michael Jackson Dangerous Tour sound check (December 12th 1992 Tokyo Dome) 
Michael Jackson Dangerous Tour Rehearsal 15th August 1993 
Michael Jackson Dangerous Tour Rehearsal 16th August 1993 (Dress rehearsal)
19. Source Notes 
20. About the Author